Inspired by Project Drawdown and funded by the Ray C. Anderson Foundation, the Drawdown Georgia project aims to identify a set of solutions to help Georgia achieve 'drawdown', or the point at which greenhouse gas (GHG) concentrations begin to decline on a year-to-year basis, and lead the state of Georgia on a path to carbon neutrality.
The Drawdown Georgia website is hosted at: https://info.drawdownga.org.
Sign up to stay informed about Drawdown Georgia. For more information, contact drawdown@gatech.edu.
Drawdown Georgia at Greenprints 2020
The Academic Research team presented the findings of the carbon sinks and Mt CO2 reductions that are technically feasible to reach achieve a net zero GHG footprint and sell excess credits into carbon offset markets.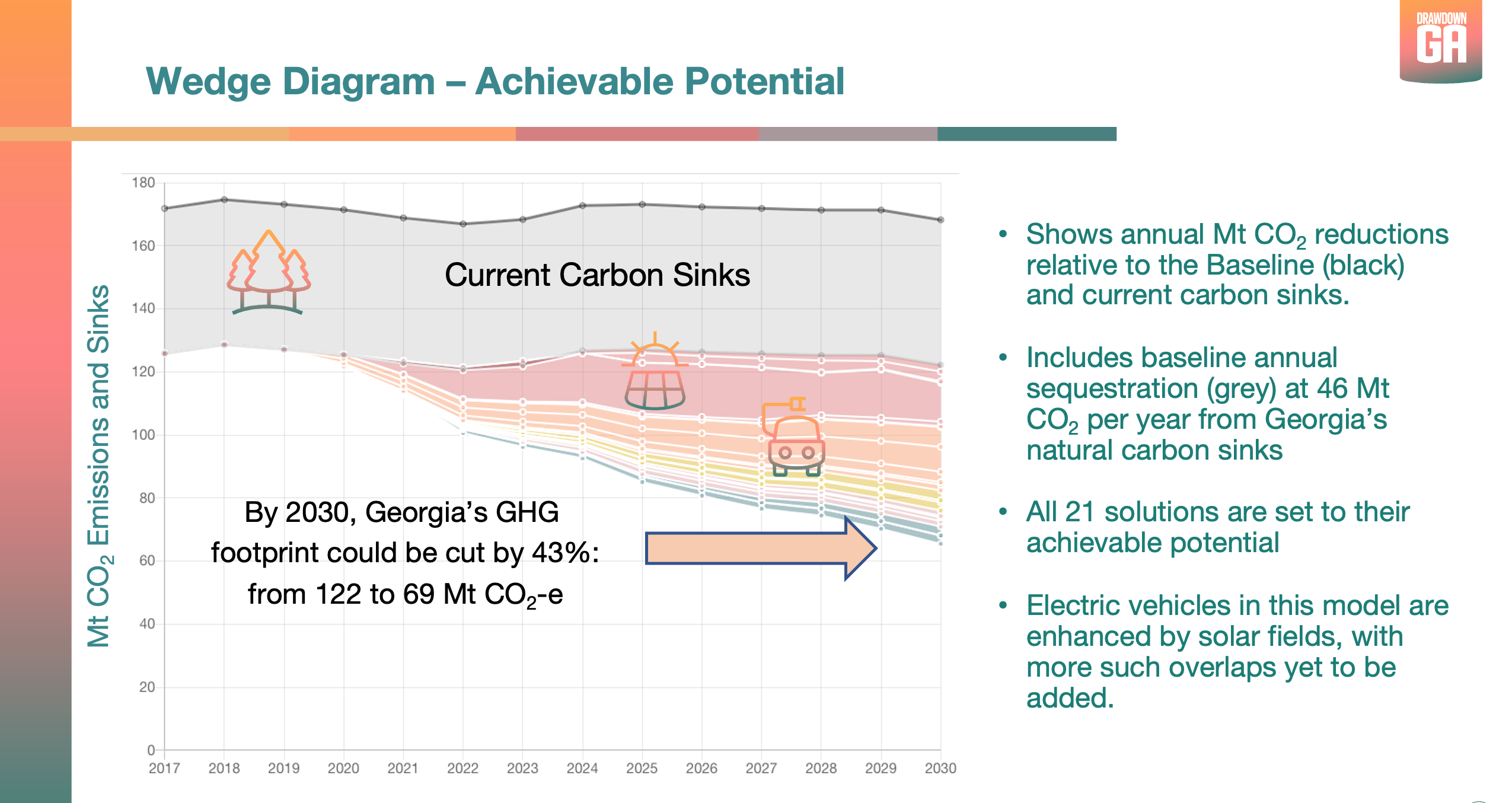 The Drawdown Georgia project was spotlighted in a half-day of activities at the August 6, 2020, Southface Institute's Greenprints Conference. The project was introduced by John Lanier (Ray C. Anderson Foundation) and Daniel Rochberg (Emory University), then described in some detail by Marilyn Brown (Georgia Tech). Five high-profile Drawdown Georgia solutions were then introduced: Rooftop Solar (Marilyn Brown), Demand Response (Matt Cox), Composting (Sudhagar Mani), Retrofitting (Shane Totten), and Electric Vehicles (Rich Simmons). Before breaking into discussion sessions, Michael Oxman (Georgia Tech) described the Beyond Carbon considerations. The break-out discussions were synthesized in Miro Boards – characterizing Accelerators, Barriers, Beyond Carbon, and Promising Approaches. The participants offered lots of ideas and insights, which was a key goal of the event.
Community Roundtable Moderators

 
Drawdown Expert
Facilitator
Beyond Carbon Rep
Notetakers
Rooftop Solar
Marilyn Brown
Daniel Rochberg
Michael Oxman
Hamilton Steimer
Demand Response
Matt Cox
Lisa Bianchi-Fossati
Beril Toktay
Oliver Chapman
Alyson Laura
Composting
Sudhagar Mani
Marshall Shepherd
David Iwaniec
Rachel Usher
Retrofitting
Shane Totten
Blair Beasley
David Eady
Valentina Snmiguel
Electric Vehicles
Rich Simons
Anne Blair
Laura Taylor
Caleb Weed
Establish Multi-Disciplinary Workgroups  - Completed Fall 2019
Six sector workgroups are comprised of faculty, researchers, and graduate students at four universities: Georgia Tech, University of Georgia, Emory University, and Georgia State.
Activities:
1. Hosted a Workshop at the Kendeda Living Building, Georgia Tech, November 6th, 2019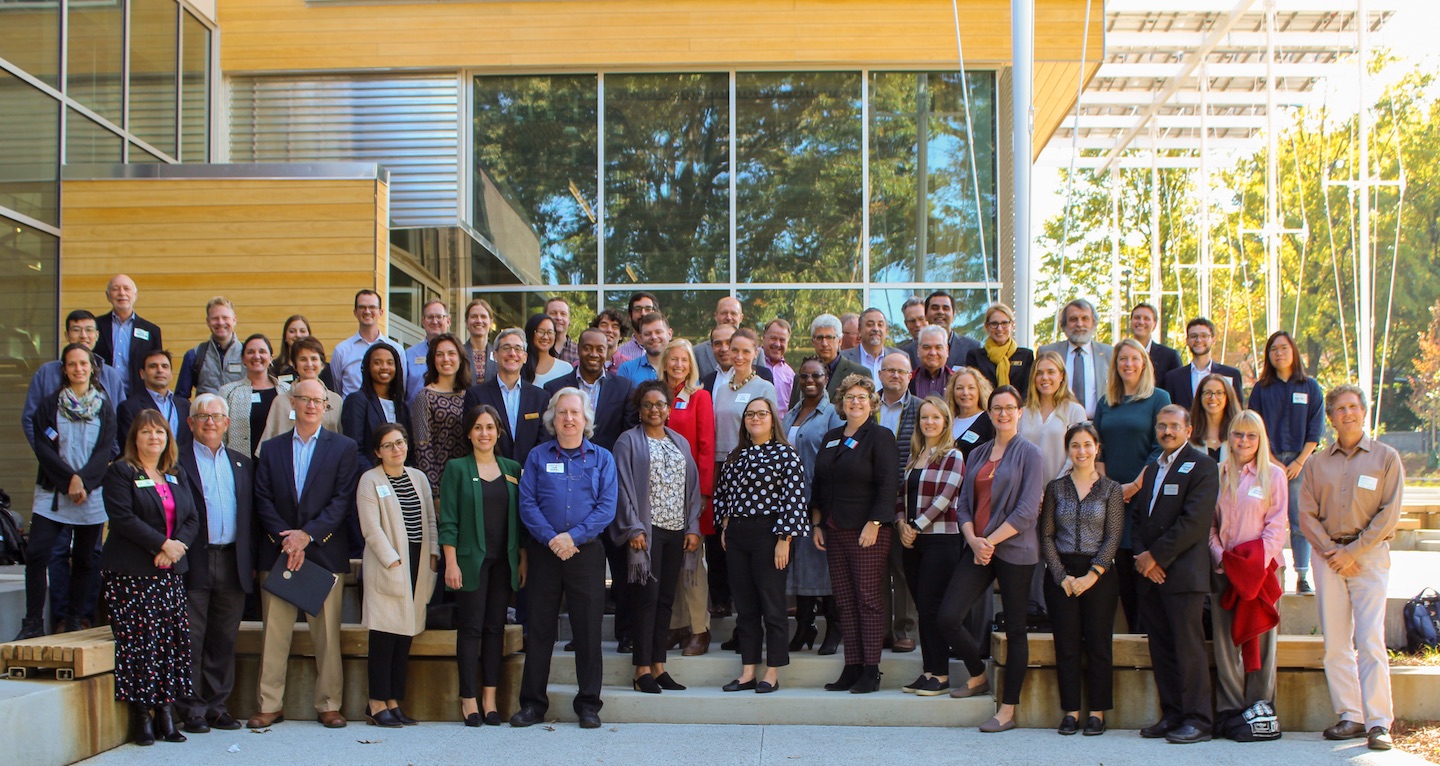 2. Presented workplans and preliminary results at the 2019 Georgia Climate Conference, Emory University
Down-select High Impact Solutions - Completed Spring 2020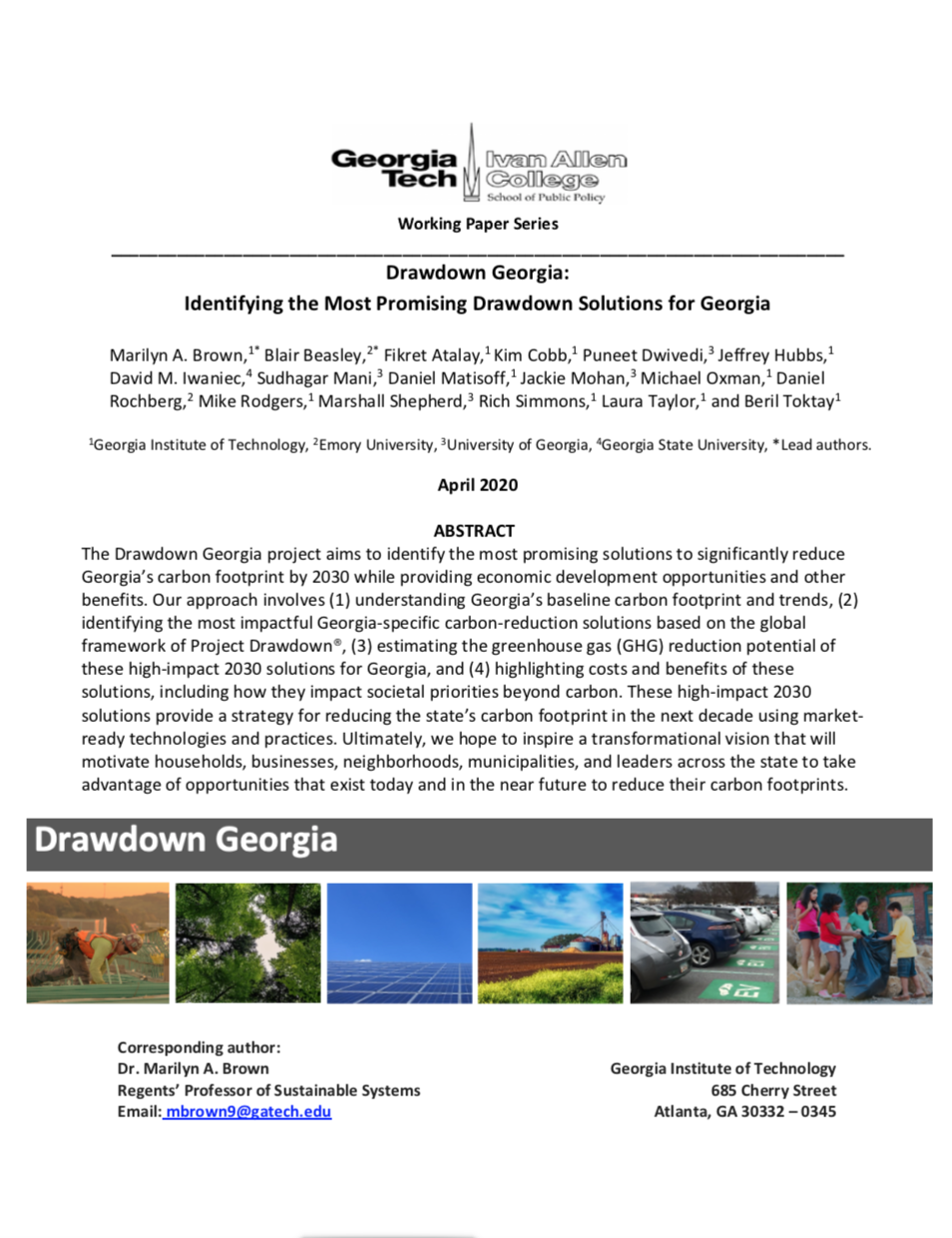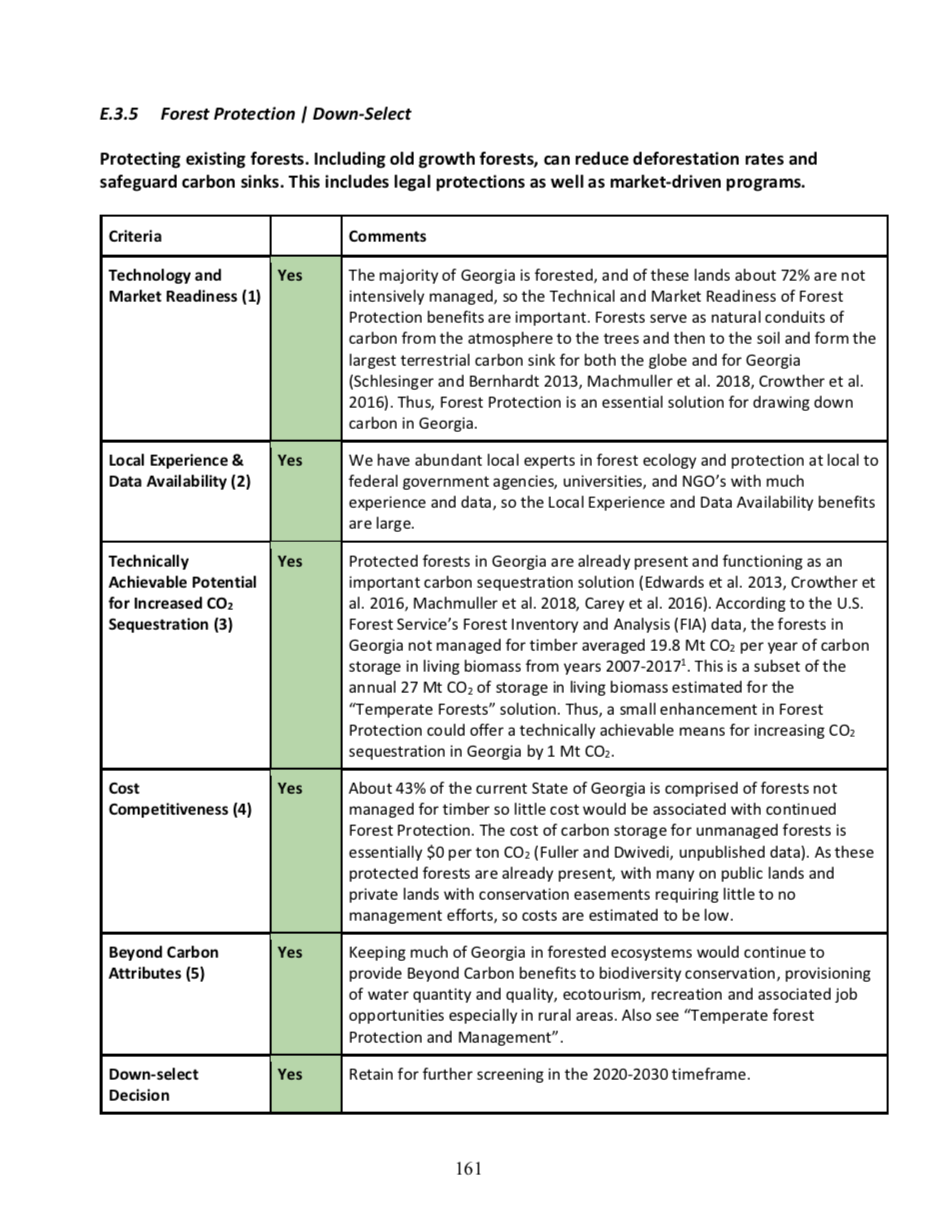 Read the 04-05-2020 Working Paper and Appendix
This working paper (on left) describes the first phase of our research, involving a fact-based assessment of Project Drawdown's solutions, to identify those that could significantly reduce Georgia's carbon footprint by 2030.  The Appendix (on right) includes logic diagrams, info sheets, and references describing 75 individual solutions. Below is a quick reference of the 21 high impact solutions, organized by sector, which are retained for further research into costs and benefits required for carbon drawdown.
Download the 2-sided solutions information sheet
Final Products - Summer & Fall 2020
Activities:
1. Drawdown Georgia's 20 High-Impact 2030 Solutions
Electricity
---
Transportation
---
Buildings & Materials
---
Food & Agriculture
---
Land Sinks
2. The Science Behind Drawdown Georgia: Reducing Georgia's Carbon Footprint in  Beneficial and Equitable Ways