"EVs + Renewables: Complementary Climate Adaptation Strategies" Dr. Marilyn Brown talked about how electric vehicles, grid redistribution, smart charging, prosumers, and crowd-sharing can help alleviate duck curve energy issues. Geography 2050: American Geographical Society, Fall Symposium on Energy Adaptation Strategies, Columbia University, November 16, 2018.
---
---
Study Abroad in Italy
---
Drs. Marilyn Brown and Valerie Thomas will be co-teaching Energy Technology and Policy - ISYE 6701 and PUBP 6701 Spring 2018
For more information about the class, please watch the video.
---
Integrating Distributed Resources into the U.S. Power System
Speaker: Marilyn Brown, Professor in the School of Public Policy, Georgia Institute of Technology
Host: Energy Graduate Group
Date: 11/3/2017
Time: 10:30am to 11:50am
Location: 1605 Tilia Street, West Village, UC Davis
---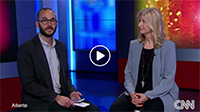 Dr. Marilyn Brown did a 30-minute CNN video interview on March 28, 2017 about today's climate policy Executive Orders. You can see it at: https://www.facebook.com/cnn/videos/10156318782866509/?hc_ref=NEWSFEED
---
"Exploring the impact of energy efficiency as a carbon mitigation strategy in the U.S."
View Presentation Video in a New Window
---
"Is energy efficiency a worthwhile investment? Listen to Dr. Marilyn A. Brown from the School of Public Policy, Georgia Institute of Technology, co-author of Fact and Fiction in Global Energy Policy, and co-recipient of the 2007 Nobel Peace Prize for her research on mitigating climate change in this short interview."  - http://cied.ac.uk/
---
Videos Covering Research by the Climate and Energy Policy Lab
Dr. Brown discusses Green&is-processed=1" allow="fullscreen" allowfullscreen> Savings at the Iowa Energy Center on April 16, 2015.
---
The Future of Electric Power had it's second workshop
View Workshop Video in a New Window
---
Talks by Marilyn Brown, Kim Cobb, and Marshall Shepherd at the AAAS workshop on Climate Communication workshop held at Georgia Tech on January 16, 2014
---
TedX Talk at the University of Tennessee
---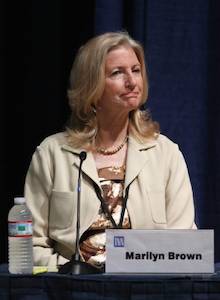 ---
Talk about Solar Energy on Capitol Hill

---
Book Debate on Climate Change and Energy Security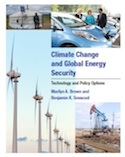 ---
Lecture on Industrial efficiency at the Rutgers Energy Institute's 6th Annual Symposium
---
Technologies & Policies for a Sustainable Energy Future--Keynote Address
---
Energy Technology and Innovation Panel at the Clean Energy Symposium