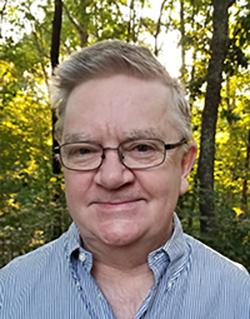 Julian Powell, a master's student in Sustainable Energy and Environmental Management (MSEEM), was recently part of a team tasked by the Georgia House of Representatives Rural Development Council to prepare a report on the decommissioning of solar panels. Powell currently interns at the Georgia Public Service Commission (GPSC), where he's part of the Energy Efficiency and Renewable Energy team.
The report, entitled "Decommissioning of Solar Farms in Georgia," outlines end-of-life policies for solar farms that are no longer useful, as well as outlines those found in other states. The report also helps give people a better understanding of the potential toxicity of the waste produced by solar photovoltaic (PV) panels—or solar panels—especially as they become a more prominent part of the landscape in rural Georgia.
A recent report released by the International Energy Agency validated the GPSC's findings. Through an empirical analysis, the report determined that the levels of toxic heavy metals produced by PV waste are one to several orders of magnitude below the safe thresholds published by the Environmental Protection Agency. The tests were conducted on leachate produced by worst-case conditions of crushed PV waste of a variety of chemistries in an unlined, uncapped landfill.
You can view the full GPSC report.