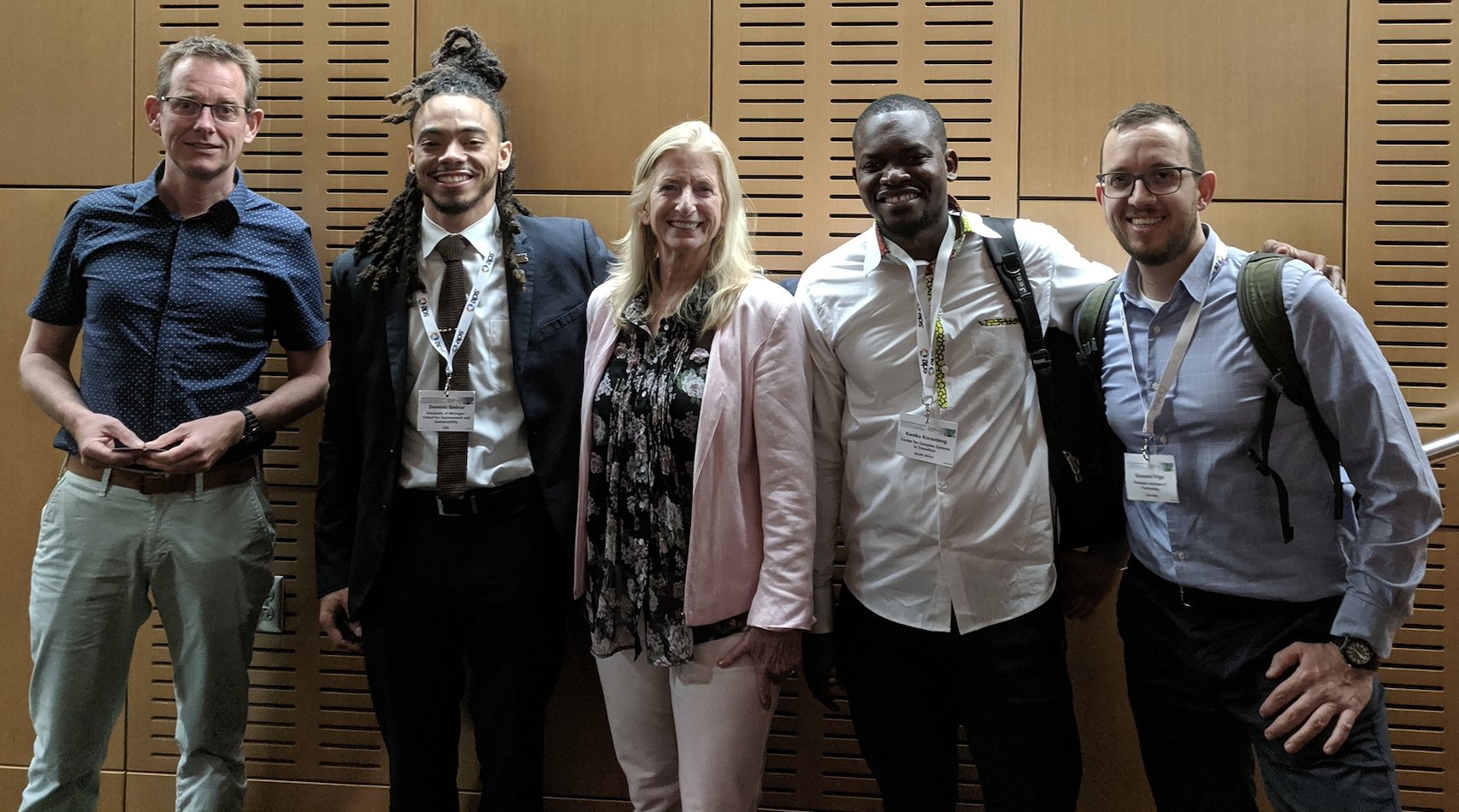 Takeaways: Low-income energy burden is not declining (U.S.). Rural energy poverty is urbanizing (Mozambique). Great session on "The Energy-Poverty Nexus" at the Energy Research & Social Sciences Conference at Arizona State University on May 29, 2019. With Peter Mulder (Vrije Universiteit Amsterdam) on the urbanization of energy policy, Dominique Bednar (University of Michigan) on indexing energy vulnerability, Kweku Koranteng (Centre for Complex Systems in Transition) on urban slum dwellers in African cities, and Giovanni Frigo (Karlsruhe Institute of Technology) on SDGs and "good life goals." (PDF)
---
Emma French and Dr. Jennifer Clark presented on Smart Cities and Data-Driven Energy Policy. View the presentations here (ppt/pdf)
---
Tae Joon Lee gave a talk on "An Analytical Framework of Technological Innovation System: the case of nuclear power system".
---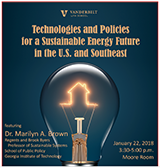 January 22, 2018 – Dr. Marilyn Brown gave a seminar at Vanderbilt University on "Technologies and Policies for a Sustainable Energy Future in the U.S. and the Southeast." 
---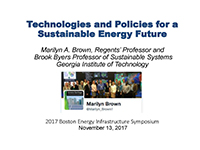 "Technologies and Policies for a Sustainable Energy Future" presented at the North American Energy Infrastructure Symposium, November 13, 2017, Boston. 
---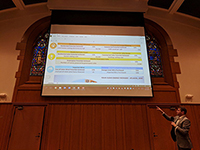 Matt Cox shows how a 50% clean energy effort could reduce home electricity bills in Atlanta by 54% in 2035. Perfect backdrop for this message at the Episcopal Church of St. Philip.
---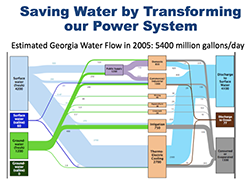 Dr. Brown gave a presentation at the Chattahoochee Riverkeeper Climate Change Conference in Atlanta, GA on September 26th. Her presentation was titled "Saving Water by Transforming our Electric System"
Please click on the image to the right to view the presentation!
---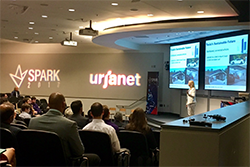 The SPARK 2017 Conference - Igniting Energy Innovation was held in Atlanta, GA on September 14, 2017!
Dr. Brown was one of the presenters, giving a talk titled "Movers and Shakers in the U.S. Power System - Distributed Resources."
Please click the link above, or the image to the left to view Dr. Brown's presentation!
---
Dr. Brown gave a presentation: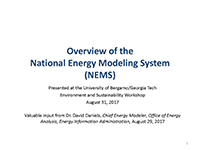 Atlanta, GA
August 31, 2017
---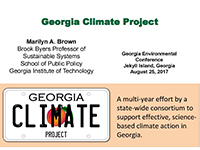 Dr. Brown presented at the Annual Georgia Environmental Conference in Jekyll Island, Georgia August 23 - 25, 2017.
View her presentation on the Georgia Climate Project here.
---
D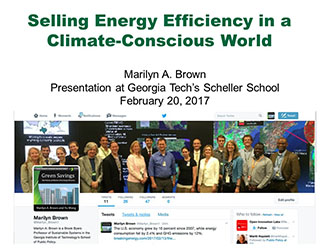 r. Marilyn Brown gave a presentation on February 20, 2017 at the Georgia Tech Scheller School of Business titled, "Selling Energy Efficiency in a Carbon-Conscious World" as part of the Carbon Conscious series.
---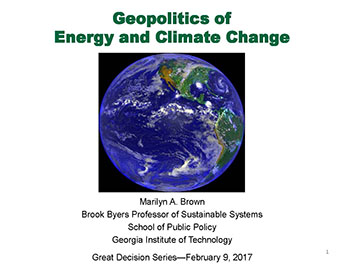 Dr. Marilyn Brown gave a presentation as part of the "Great Decision Series" on February 9th titled "Geopolitics of Energy and Climate Change". James Haverty Smith (Perkins+Will) and Harry Findlay (retired, Emory University) were the series organizers, and the venue was the Dunwoody United Methodist Church in the northern Atlanta suburbs.
---


Usayd Casewit recently participated in a South GA solar energy industry study trip.
Here is the powerpoint presentation from his time in South Georgia:
Solar Energy in South Georgia: A Booming Industry
---

24,000 gathered at the American Geophysical Union 2016 Fall Meeting in San Francisco, and about 1000 attended a panel on December 13 on "Shifting the Energy Mix in a post-Paris World"
Moderator: Greg Dalton, Climate One
Panelists:
Howard Gruenspecht, Deputy Administrator, Energy Information Administration
Veerabhadran Ramanathan, Scripps Institute of Oceonagraphy
David Nagel, Retired Vice President of BP
Marilyn Brown, Brook Byers Professor of Sustainable Systems, Georgia Tech
You can watch the panel discussion discuss the role of fossil fuels and renewables, energy efficiency and prosumers, digitalization and data analytics, energy poverty and much more.
---
Usayd Casewit gave a presentation titled, "Solar Energy in South Georgia: A Booming Industry" a report on Usayd's solar energy industry study trip in South Georgia
---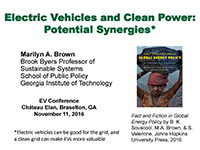 Marilyn Brown presented on Electric Vehicles and Clean Power: Potential Synergies at the EV Conference in Braselton, Georgia on November 11, 2016
The talk presents four principles:
"Valley Filling" Improves Grid Economics
EV Benefits depend on the Fuels Used to Generate Electricity
Clean Electricity Needs more Overall Grid Balancing
EVs Can Help to Balance and Green the Grid
---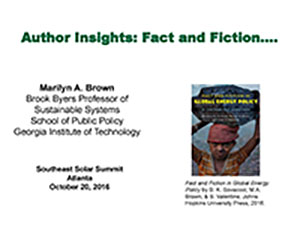 Marilyn Brown gave a presentation at the 8th Annual Southeast Solar Summit in Atlanta, Georgia on October 20th 2016.
Title: Author Insights: Fact and Fiction...
---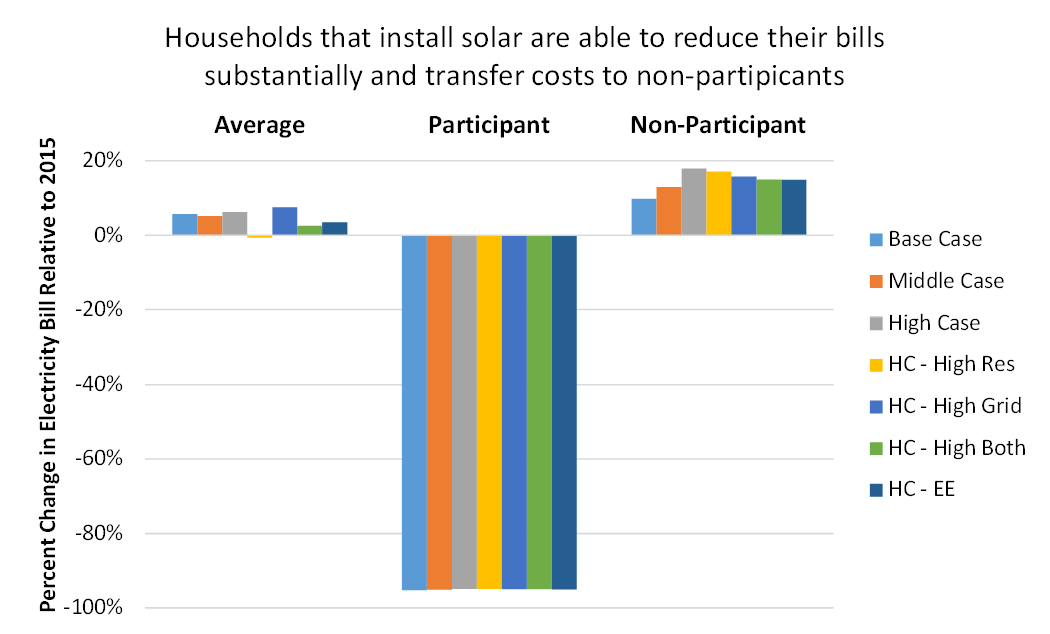 Title: Impacts of Solar Power on Electricity Rates and Bills
Authors: Marilyn A. Brown, Erik Johnson, Dan Matisoff, Ben Staver, Ross Beppler & Chris Blackburn
Conference: 2016 ACEEE Summer Study on Energy Efficiency in Buildings
Publication: Proceedings of the  American Council for an Energy-Efficient Economy, Pacific Grove, CA
---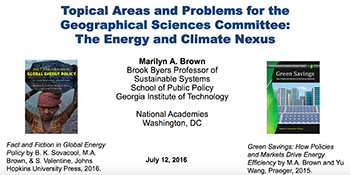 Marilyn Brown gave a talk at the National Academies on July 12, 2016, outlining "energy and climate" ideas for the research agenda of the newly re-constituted Geographical Sciences Committee.
---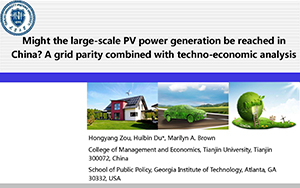 Huibin Du gave a presentation on "Might the large-scale PV power generation be reached in China? A grid parity combined with techno-economic analysis" at 2016 Chinese Environmental Scholar Forum held in Princeton University on Saturday, Jun 4, 2016.
Coauthors are Marilyn Brown and Hongyang Zou.
---
Marilyn Brown and Frank Southworth gave presentation on the future of electric vehicles at the "Research Workshop on the Psychological and Policy Dimensions of Transport," sponsored by Aarhus University, in Copenhagen, Denmark, on Friday, February 19, 2016.
---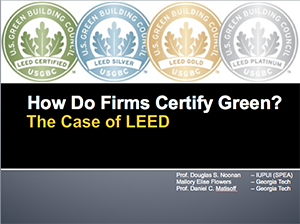 PhD Student Mallory Flowers gave a conference presentation of her paper "How (and Why?) Do firms Certify Green? The Case of LEED" at the 2015 Fall Research Conference of the Association of Public Policy Analysis and Management (APPAM) on November 12, 2015.
The paper is co-authored with Dr. Doug Noonan from the School of Public and Environmental Affairs at Purdue, and CEPL's own Dr. Dan Matisoff.
---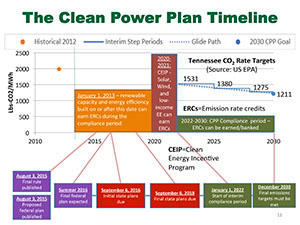 Click on this image to view Dr. Brown's presentation,
Dr. Brown presented this PowerPoint at the TenneSEIA Annual Meeting on Monday, November 9th in Nashville, TN. 
---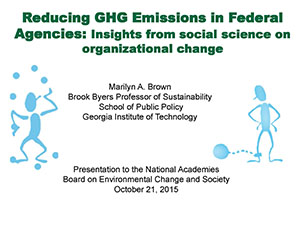 Dr. Brown gave a presentation to the National Academies on Environmental Change and Society titled "Reducing GHG Emissions in Federal Agencies: Insights from social science on organizational change"
October 21, 2015
---

Dr. Marilyn Brown 
August 3, 2015
2015 EPA Region 4 Community Workshop on Energy Efficiency.
Titled: "Green Savings: How Policies and Markets Drive Energy Efficiency."
---
Dr. Marilyn Brown gave a talk on Friday, April 24, 2015 at the inaugural Day of Scholarship event at Emory University titled: "The Future of Climate Change"
---
Dr. Marilyn Brown gave a presentation on February 12, 2015 at the National Research Council's Committee on Pathways to Urban Sustainability, on "Maximizing Trade-Offs Among Social, Environmental, and Economic Benefits"
---
On December 5, 2014, Marilyn Brown gave a presentation at DOE's Cornerstone Workshop for the Quadrennial Technology review, on "Analytic Approaches for Assessing RD3 Needs across the Energy Sector"
---
Dr. Marilyn Brown gave a presentation "Integrating Energy Efficiency Into the DG Mix" at the Agile Utility as part of the Georgia Tech Energy Series on November 12, 2014.
---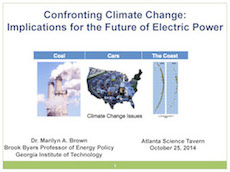 On October 25, 2014 Dr. Marilyn Brown gave a talk to a crowd of 100+ at Manuel's Tavern in Atlanta on: "Confronting Climate Change: Implications for the Future of Electric Power."
Our region, along with the rest of the nation, faces a number of challenges in making the transition to ways of producing electrical power that are consistent with meeting CO2 restrictions inposed by climate change goals.  Please visit the Atlanta Science Tavern website for more details about the event, including a podcast that will be posted shortly.
---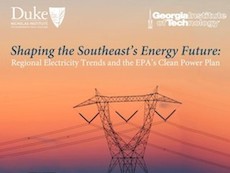 Georgia Tech and Duke are collaborating to host a workshop which will gather stakeholders from diverse viewpoints to explore the Southeast's transitioning electricity sector and the U.S. Environmental Protection Agency's proposed Clean Power Plan to limit carbon dioxide emissions from existing power plants. Topics covered will include the regional nature of the electricity system; current trends in the Southeast's electricity sector; key issues raised by the EPA's proposal; state flexibility in compliance planning; and tradeoffs between individual- and multi-state approaches to managing carbon dioxide emissions.
---
PhD student Alexander Smith, gave a  presentation on "Policy Considerations for Adapting Power Systems to Climate Change" at the Energy Policy Research Conference in San Francisco on September 4, 2014.
---
Dr. Marilyn Brown and Dr. Dan Matisoff spoke at the "Southeast 111d Technical Summit" hosted by the Southface Energy Institute on August 13-14, 2014.
"Modeling Tools and Frameworks to Support Block 4 Energy Efficiency" by Dr. Marilyn A. Brown
"Energy Efficiency and 111(d)" by Dr. Dan Matisoff
---
On June 29, 2014, Dr. Marilyn Brown testified and participated in a press conference at the EPA hearing on EPA's Proposed Clean Power Plan for existing Power Plants in Atlanta, GA. A transcript of her testimony is available.
---
On June 26, 2014, Marilyn Brown gave a talk on "Energy and Climate Change" at the American Museum of Science and Energy