A Town Hall Discussion of Regulatory Scenarios and No-Regrets Strategies for Georgia
October 14, 2016 – 8:30 a.m. – 1:00 p.m.   | All Saints Church, 634 West Peachtree Street NW, Atlanta, GA
Hosted by the Georgia Tech School of Public Policy and Emory University's Climate@Emory initiative.  
Powerpoint Presentations | Agenda | Topic Snapshots | Reference Materials | Photo Gallery | Videos
In February 2016, the U.S. Supreme Court issued a stay of the Clean Power Plan, pending resolution of ongoing litigation. Georgia, along with many other states, has chosen to pause its efforts to develop a compliance plan while the stay is in place.  In that context, this Town Hall explored two central questions:
What regulatory scenarios lie ahead for Georgia?

What "no-regrets strategies" can Georgia consider as we navigate these regulatory scenarios?
This event was a follow-up to the first "Choosing Our Energy Future" Town Hall last September.  It engaged a broad range of stakeholders, including policymakers, practitioners, students, and the general public.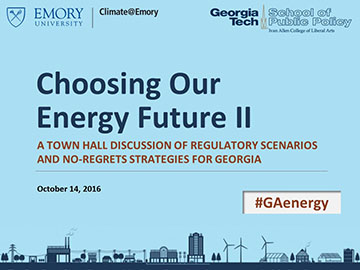 Powerpoint Presentations
Topic Snapshots
9:00 -- What Regulatory Scenarios Lie Ahead for Georgia?  In the opening agenda item, we considered a range of potential scenarios, taking into account the ongoing Clean Power litigation, Supreme Court vacancy, upcoming November elections, other possible regulations, and other issues.  
10:00 - Cafe Conversations: No-Regrets Options for Georgia's Energy Future  In a series of roundtable discussions, we explored and identified "no-regrets strategies" that Georgia can consider with different regulatory scenarios.
Topic 1: Maximizing Innovation, Economic Development and Jobs: Will Georgia shape the energy future or be shaped by it?  Given what we know of how the utility industry is evolving, what strategic investments can be made to ensure Georgia's economy continues to grow?  How can the expertise of Georgia's universities and research communities be utilized most effectively to develop and deploy new energy solutions? Where are growth opportunities? What can Georgia do to effectively pursue them?  Specifically, what strategic investments can we make to (a) maximize energy innovation, (b) build, recruit and retain energy businesses, and/or (c) put more Georgians to work in the energy sector?

Topic 2: Supporting Economic Transition Opportunities in the Event of Power Plant Closings: Under several future scenarios, additional coal-fired power plants in Georgia will be shuttered.  What opportunities exist for supporting the communities affected by these changes?  Are there strategies that can replace some or all of the tax revenues and employment that these plants provide? What are the opportunities for re-use and economic development?  How might training and education programs for displaced workforce assist? What other community concerns and opportunities can be addressed in this context?

Topic 3: Addressing Low-Income Energy Needs: How do current or anticipated changes to the energy industry impact low-income households, businesses and communities? What are the potential benefits and potential risks of these changes?  Are there communities with high energy burdens that merit special consideration? Are there communities that are particularly vulnerable to climate change? What strategies can be put in place to address energy equity needs and maximize economic opportunity for low-income residents?

Topic 4:  Achieving Environmental Compliance: With a variety of environmental regulations confronting the utility industry, how well is Georgia positioned to meet these obligations? What are the risks and the opportunities? What are areas of strength and what challenges exist?  How can demand- and supply-side strategies be co-optimized? What no-regrets strategies would make sense going forward?

Topic 5: Adapting the Utility Business Model: What risks does the utility sector face under the full range of regulatory scenarios? Does the utility sector have the tools and rules it needs to succeed in the future?  Do utility rate structures enable distributed resources to compete effectively? Is the expansion of gas combined cycle plants the best short-term strategy? What role should nuclear and renewables play? What no-regrets strategies are being considered and/or should be considered?

Topic 6: Ongoing State Energy Planning: Is Georgia providing the right opportunities for stakeholders to discuss issues associated with Georgia's energy future?  Is the IRP process in Georgia structured to optimize utility strategies? What forums are working well?  What other forums are needed?  What strategies are under development?  Are there are other strategies that should be considered?
Reference Materials
Photo Gallery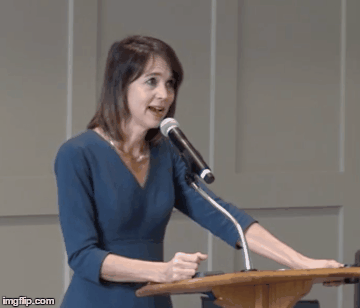 Videos
Marilyn Brown, Georgia Institute of Technology
Daniel Rochberg, Emory University
Potential Regulatory Futures Impacting the Utility Sector
Dave Moore, Smith, Gambrell and Russell
Anticipated Environmental Regulations Impacting the Utility Sector
Brenda Brickhouse, Tennessee Valley Authority
Moving Georgia into the Future
Kevin Kelly, Southface Energy Institute
Marilyn Brown, Georgia Institute of Technology
Cafe Conversations Introduction
Topic 1: Maximizing Innovation, Economic Development and Jobs
Costas Simoglou, Georgia Department of Economic Development
Topic 2: Supporting Economic Transition Opportunities in the Event of Power Plant Closings
Ian Karra, Sierra Club
Topic 3: Addressing Low-Income Energy Needs
Seandra Pope, Rooted Consulting Group and Lisa Flick Wilson, Southeast Energy Efficiency Alliance
Topic 4: Achieving Environmental Compliance
Katie Southworth, NRDC
Topic 5: Adapting the Utility Business Model
Jennette Gayer, Environment Georgia
Topic 6: Ongoing State Energy Planning
David Gipson, Georgia Environmental Finance Authority
Reflections
Stephanie Stuckey Benfield, Director, Atlanta Office of Sustainability
Tim Echols, Commissioner, Georgia Public Service Commission
Closing Remarks
Marilyn Brown, Georgia Institute of Technology
Daniel Rochberg, Emory University