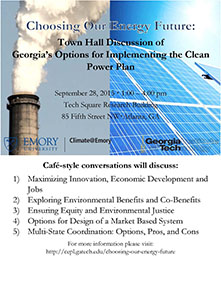 The Georgia Institute of Technology's School of Public Policy and Emory University's Climate @ Emory hosted an event Choosing our Energy Future: Town Hall Discussion of Georgia's Options for Implementing the Clean Power Plan on September 28, 2015, in Atlanta, Georgia.
When: 1:00 – 4:00 p.m. EST, September 28, 2015
Where: Georgia Tech Campus, Room 132 - Tech Square Research Building (TSRB), 85 Fifth Street NW, Atlanta, Georgia 30308. View Map
After a few plenary speeches, participants had "Cafe Conversations" to discuss particular issues within smaller group settings. Full Agenda
PowerPoint Presentation: Clean Power Plan 201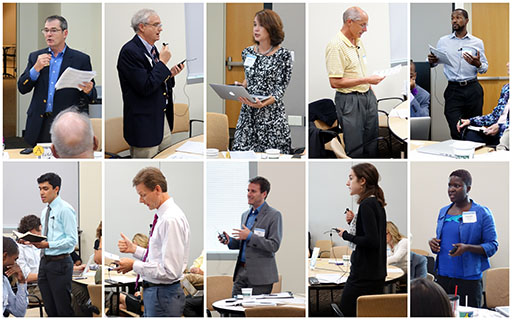 First Row (left to right): Tim Echols, John Sibley, Stephanie Stuckey Benfield, Ted Russell, Christian Braneon
Second Row (left to right): Ian Karra, Charles Rossmann, Nick Cooper, Abby Fox, Claudette Ayanaba
Video recording of September 28, 2015: 
Loading the player ...