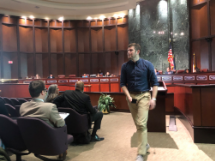 After more than two years of deliberation, last week the City of Atlanta officially adopted a plan to transition to 100% clean energy by 2035. 
Georgia Tech hosted the first town hall meeting on the goal, and Matt Cox (a Georgia Tech alum and a PhD from the Climate and Energy Policy) and his team from the Greenlink Group spearheaded the analytical support for the goal. Above is a photo of Matt after making remarks at the final city council vote. 
Shan Arora (now at Georgia Tech, and previously at the Southface Energy Institute) and others from Georgia Tech's Climate and Energy Policy helped to articulate the need for clean energy at town hall meetings across the City of Atlanta. CEPL is proud to have supported this effort. Atlanta is one of the first cities in the Southeast to adopt a clean energy goal, and its leadership will help the region and the nation accelerate the transition to a clean energy future.