By Michael Pearson
(An Interview with Marilyn Brown)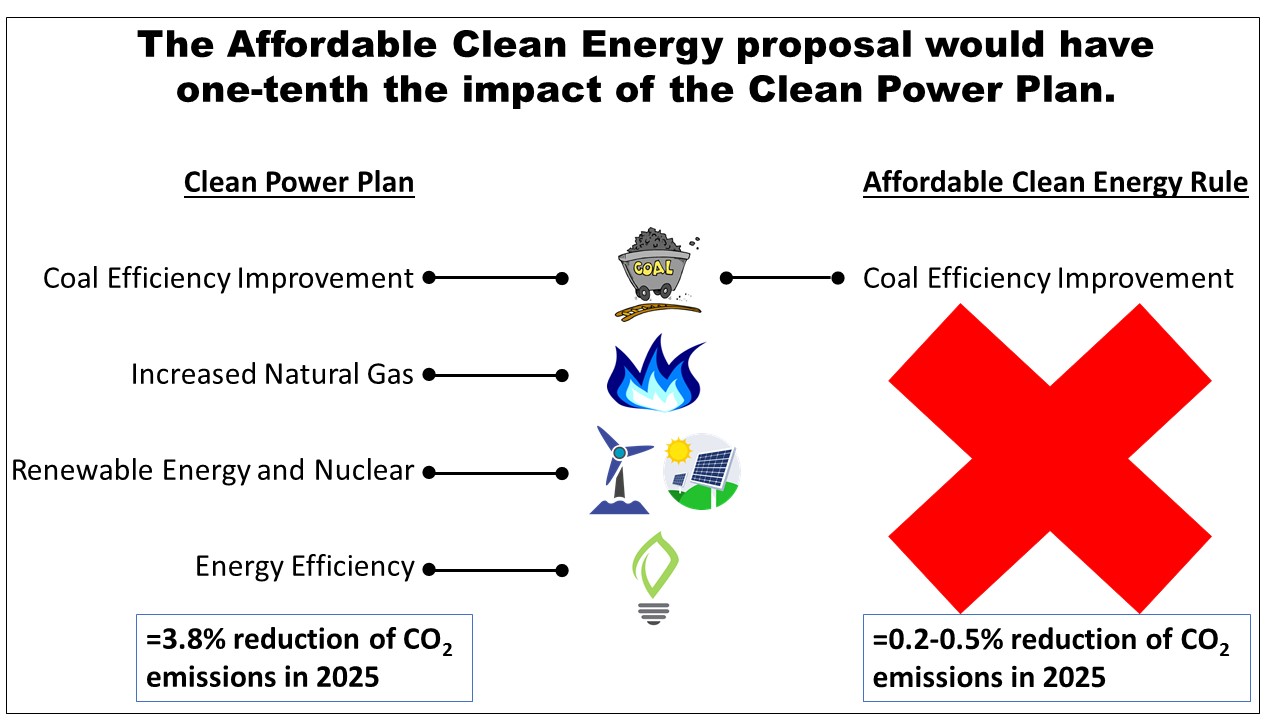 The U.S. Environmental Protection Agency announced its replacement for the Obama-era Clean Power Plan on Tuesday, Aug. 21, 2018. The Affordable Clean Energy, or ACE, rule would set state guidelines for plans addressing emissions from coal-fired power plants.
Proponents say it will ease regulatory burdens on power plant operators while reducing carbon dioxide emissions to levels similar to those projected by the Clean Power Plan, which was the first-ever federal plan aimed at reducing carbon pollution from existing power plants. It has never taken effect due to legal challenges.
Opponents say the proposal does too little to lower the output of greenhouse gas emissions and other pollutants from the approximately 600 coal-fired electric generating units the EPA says would be covered by the rule.
We spoke to Marilyn Brown, a Georgia Institute of Technology School of Public Policy Regent's Professor, and the head of the Climate and Energy Policy Lab, to get her take on the proposed new rule.
What is your analysis of the plan?
This is a timid plan. In terms of reductions, the Affordable Clean Energy proposal would have one-tenth the impact the Clean Power Plan would have had.
Based on EPA's Fact Sheet, the Affordable Clean Energy proposal would reduce CO2 emissions in 2025 by only 0.2 to 0.5 percent. That's about 0.7 to 1.6 percent of total emissions from the electricity sector. Compare that to the Clean Power Plan, which would have cut U.S. emissions by 3.8 percent in 2025. That amounts to 10.8% of overall electricity sector emissions.
One of the problems is that the proposal focuses on increasing the efficiency of coal plants as the primary means of reducing carbon emissions. But U.S. coal plants are already run very efficiently. The most inefficient plants already have been retired for economic reasons. So there's just not going to be a lot of efficiency gains left, and the overall impact is going to be de minimis.
This plan abandons the parts of the Clean Power Plan that would have most helped drive down carbon emissions, including, one, shifting energy production to natural gas, two, switching to zero-emission sources like renewables and nuclear, and three, working to decrease energy demand through efficiency improvements.
I'm also worried that this proposal is not going to prompt any action on the part of some states. It's really just handing the ball to them, and they may not run with it.
The EPA says it's plan will give power plant operators and state regulators more flexibility to upgrade plants without triggering the major "new source review" permitting process, which the industry argues inhibits investments in existing plants. What's your view on this?
I like it from one perspective. This change will eliminate a barrier to plant modernization. The threat that a new source review would be triggered when a plant undergoes a significant renovation has prevented some upgrades from being made. Under the Affordable Clean Energy proposal, only projects that increase a plant's hourly rate of CO2 emissions would need to undergo a full NSR analysis.
The problem is that a more efficient plant will likely be dispatched more. As a result, overall CO2 emissions could increase. This "rebound effect" is acknowledged in the proposal, but is not addressed.
Who wins and who loses under this proposal?
If you compare it to the Clean Power Plan, it's a major loss for the renewables industry and energy efficiency, and a gain for the coal industry. But compared to the status quo, the future for natural gas, renewables and efficiency will continue to be bright because they make economic sense. They just won't get an extra boost, as they would have under the Clean Power Plan.
The two big missed opportunities here are, of course, the squandered health benefits and the mitigation of climate change. The Clean Power Plan passed a cost-benefit analysis solely on local and regional health benefits including reduced asthma, etc. It also would have provided a more effective approach to addressing global warming, raging wild fires, floods, and sea level rise that climate change is inducing.
What impact do you think this will have on the coal industry?
In the short term, we're not going to see the massive retirement of coal plants that we would have seen under the Clean Power Plan.  The Affordable Clean Energy proposal is going to keep coal burning and will prevent some power plants from closing.
Do you anticipate the kind of litigation that blocked the Clean Power Plan?
Yes, there will be a lot of litigation. It's a jobs bill for environmental attorneys. The definition of "best system of emission reduction" will be challenged, since the Affordable Clean Energy proposal excludes the very approaches that stand to most reduce emissions. The Supreme Court ruled that the Environmental Protection Agency needs to address carbon emissions to protect human health and welfare, and the EPA will be challenged because it is not doing that.
The School of Public Policy and the CEPL are part of the Ivan Allen College of Liberal Arts.
Related Links