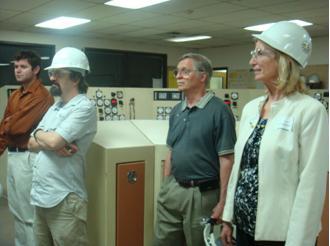 Recent focus on creating "green jobs" has prompted many researchers throughout the world to analyze cutting-edge technologies and associated public policies that would help foster growth in green energy development and an associated increase in jobs.  Realizing the abundance of "green" opportunities, in the South especially, the Climate & Energy Policy Lab ("CEPL") has partnered with Georgia Tech's Institute of Paper and Science Technology ("IPST") to look at the jobs impact of expanded power generation by the U.S. pulp and paper industry as a result of incorporating policies which promote the use of efficient power generation technologies and the increased use of biomass in power generation.
Expanding upon research by our own Dr. Marilyn Brown and Dr. Youngsun Baek, currently with the Oak Ridge National Laboratory, which examined the impact of economic stimulus programs and proposed federal clean energy policies on the pulp and paper industry, this research project takes a look at the latest proposed "Clean Energy Standard" policies utilizing the 2011 National Energy Modeling System ("NEMS") and input/output analysis to estimate the net U.S. employment impacts of a large increase in the industry's biomass electricity generation.
Expanded power generation in the pulp and paper industry, particularly the increased use of new Combined Heating and Power ("CHP") systems technology coupled with increased use of woody biomass is expected to increase power generation substantially.  Whereas most pulp and paper mills currently produce as much as 40-70% of the electricity needed to operate its facilities, implementing the latest CHP systems is expected to make many mills "net generators" of power which could then be sold back to the electricity grid.  The resulting effect has far reaching implications, including expansion of "distributed power generation," greater power generation efficiencies, lower energy costs, less dependence on fossil fuels for power generation and ultimately more "green jobs" in our national economy.
Links:
Researchers: