2020-2021 SEEM Students
| | | | | |
| --- | --- | --- | --- | --- |
| Kelsey Alexander | Nidhi Gangavarapu | Bonnie Hester  | Tiffany Owens  | Madeline Shepard​ |
| Emma Brodzik  | Christian Garcia | Gregory Horstmeier  | Thomas Orzech | Anne Webb  |
| Carolyn Burch  | Miguel Granier | Simon Key | Julian J. Powell | Jennifer Wilson |
| Samuel Costa | Parker Hamilton  | Billy Mauldin | Lauren Rister  | Gracy Wingkono  |
| Claire Cressman  | Gary Harris | Brooklyn Mooney | Hadassah Robbins  |   |
Meet the 2020-2021 Fellows
Carolyn Burch
Carolyn Burch received her undergraduate degree in environmental studies from UC Santa Cruz. Burch has researched ocean acidification, explored waste management solutions for isolated communities, and performed a study on the spatial relationships between pollution and demographics in Santa Clara County. She has worked for the past year as a Climate Corps fellow in the UC Office of the President supporting the implementation of the UC system-wide Sustainable Practice Policy. She is excited to continue her education at MSEEM and expand her skillset to become a more effective environmental professional.
Claire Cressman
Claire Cressman received her undergraduate degree in business from Auburn International. She was first introduced to the importance of sustainability while helping diplomats prepare for the 2015 United Nations Climate Change Conference (COP21). However, once she began to work in mortgage banking, she noticed how intimately the real estate industry, the financial world, and the environment are connected. This sparked Cressman's interest to pursue a career researching and implementing sustainable investment and business strategies within the real estate world.
Parker Hamilton
Parker Hamilton received his undergraduate degree in environmental studies from Tulane University. Hamilton is a 24- year-old Floridian, come to Georgia by way of Louisiana. He loves being in the sunshine and growing things in the dirt. Parker speaks four languages, and loves practicing with anyone willing! In Fall 2020, Parker will begin a PhD and MSEEM with the School of Public Policy. His academic interests include renewable energy development and labor dynamics.
Gracy Wingkono
Gracy Wingkono received her undergraduate degree in chemical engineering from Universitas Surabaya. She is a Product Development Leader at Multi-Color Corp. Her work in Product Management and Development fields encompasses diverse industries. For her love of polymers, she ventures into biopolymers, printing & packaging, and performance materials. She is known for orchestrating successful strategies, collaborating with partners, executing projects through completion. She is pursuing her focus in Sustainability Policy by joining the MSEEM program. She marvels at nature both at work and at home, sharing love and life in her three-generation household
Meet the Inaugural Class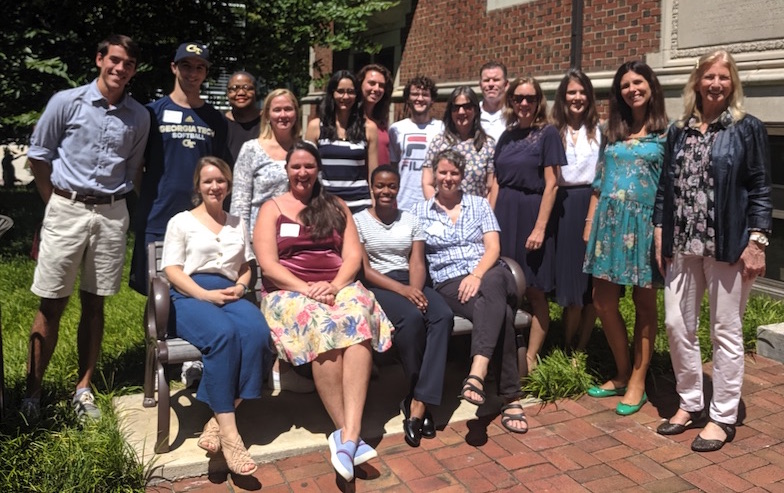 The inaugural class of MSEEM program consisted of 11 full-time students, 5 of which were also MSEEM Fellows. These students entered the program in Fall 2019 and finished all of the requirements for their degree in Summer 2020.
Students come to the MSEEM program from a wide range of backgrounds. Some come straight from their undergraduate education, and some bring with them years of professional experience. Their undergraduate degrees are just as diverse, ranging from international affairs to environmental science to architecture. Hear some of their stories below, as well as written testimonials from some of the first-ever MSEEM Fellows and information about the Fellows for the 2020-2021 academic year.
Testimonials from Former Fellows
"The best part of being an MSEEM Fellow was having the ability to give back to the program that gave me so much. As a Fellow, I had the opportunity to work on faculty research and to represent the MSEEM program at school events and conferences. The Fellows were also able to contribute to internal MSEEM programs, like planning social events, and we had the ability to provide direct feedback to faculty about the experience of the larger MSEEM cohort. I found it very rewarding to help grow and shape the future of the program, to make it even better for future MSEEM students."
-Katie Maxwell, 2019-2020 MSEEM Fellow
"Being a fellow was a unique and rewarding experience. We were given the opportunity to be involved in the Drawdown Georgia project led by Dr. Brown. I definitely learned a lot from this experience and it was interesting to see the things we were learning about in class applied to the real world.

Since it was the first year of the program, I'm not sure any of us knew what to expect, but we had fun promoting the MSEEM program, getting involved on campus, and finding our academic niches."
-Haley Randolph, 2019-2020 MSEEM Fellow
"Being a Fellow in the inaugural MSEEM class has been a true honor and privilege. The program directors have worked closely with us to lay down a successful foundation for future students, and I am proud of the impact we have all made. As a Fellow, I have championed the MSEEM program on and off campus, and I will continue to do so from afar because the program empowers students to tackle the real sustainability challenges of today and the future. I am excited to see how the Fellow role continues to develop in the years to come as future Fellows embrace their leadership role on campus and in their communities."
-Hamilton Steimer, 2019-2020 MSEEM Fellow
"Being an MSEEM Fellow provided me with lots of exciting research opportunities. I was able to work on the Drawdown Georgia project with professionals all over the state of Georgia. The projects I assisted on as a Fellow provided me with a platform to demonstrate and refine my abilities and forge professional relationships with faculty and industry professionals from across the country. In addition, the fellowship experience helped my peers and I to form lifelong friendships and build a network of support for one another that will continue to be valuable long after graduation.  Being an ambassador for the MSEEM program and for the School of Public Policy was an honor."
-Caleb Weed, 2019-2020 MSEEM Fellow
"Being an MSEEM Fellow changed the course of my career and radically enhanced the contributions I am able to make in advancing energy equity, sustainability, and environmental/climate justice. By gifting me with the space to fully focus on my studies, the fellowship was a huge factor in my success. Coming into the program as an older student and nonprofit executive was difficult; my learning curve was steeper than most of my cohort. But being an MSEEM fellow helped: I didn't have to worry about time or money. I felt seen and trusted. And I was able to fully focus on learning and applying robust methodological, analytic, policy, theory, and technological tools that I need to be successful. The fellowship also gave me added accountability to do well, to support my peers, and to give back to the school, which I did in several ways: contributing to the Drawdown Georgia project, the Institute's 10-year strategic plan, and cohort relationship-building, like our intramural volleyball team. I am grateful for the faculty, staff, and leadership of the School of Public Policy, and to the funder(s) of the MSEEM fellowship. Frankly, I cannot imagine a world without MSEEM. It has changed my life, and I've no doubt it and similar programs will change the course of history for our planet and people. Thank you for honoring me with an MSEEM fellowship! I am forever in service of its mission."
-Becky Rafter, 2019-2020 MSEEM Fellow