Meet the 2022-2023 Fellows
Meyer Willson
Meyer earned his undergraduate degree in mechanical engineering from Southern Methodist University. His professional career has focused on oil & gas through a range of internships in equipment engineering, strategy, data analytics, and project management. Originally from Louisiana, Meyer grew up in a region heavily reliant on the petrochemical industry. He saw firsthand the dependence that these economies have on fossil fuels, but also the negative impacts that these industries have on the surrounding communities and environment. Through MSEEM, Meyer is eager to learn how to implement change through economic and policy analysis. He hopes to aid the transition toward renewable energy resources by focusing on how to rework existing infrastructure for a greener future.
Lizze Umanah​
Since Lizze was young, nature has always intrigued her, so much so that she is pursuing a career protecting it. She graduated from the University of Georgia with a B.S.A.B in Applied Biotechnology emphasizing in Plant Sciences and a Certificate in International Agriculture. Currently she volunteers with environmental projects around Atlanta and does outreach for the grassroots organization, Georgia Environmental Coalition of Colour. She is also the owner of the blog OffGreenThumb where she documents her environmental pursuits of transforming her backyard into a regenerative garden and building her environmental design company that transforms parking lots into sustainable spaces. She hopes with her work that she not only creates solutions to environmental issues, but also is able to provide some sort of a blueprint and resources for others that would like to implement their own environmental projects.

Mark Lannaman
Mark Lannaman graduated from Georgia State University with a B.A. in journalism (minors in geosciences and Spanish) in 2021. He then attended the Georgia Institute of Technology for a M.S. in Global Media & Cultures as a FLAS fellow, before returning to Georgia Tech for MSEEM. Mark has directed two documentaries: one about urban gardens in Atlanta and Bogota and gentrification in Atlanta, respectively. He has worked for WABE Radio (NPR Atlanta) and as an inaugural fellow for Every Learner Everywhere he worked to make digital higher ed more equitable. This past year he worked as an intern for the Atlanta Regional Commission on a project regarding urban agriculture. Mark followed this by working with a vertical farm, carbon negative venture in upstate New York. Through MSEEM, he looks to build upon his interests in urban agriculture and the intersection with clean energy development while using his communication skills to amplify messaging. In his free time, Mark enjoys screenwriting and playing basketball (and will never turn down a 1v1 challenge).
Meet the 2021-2022 Fellows
Alvaro Concha
Alvaro received his undergraduate degree in Civil Engineering from Georgia Tech. He has been working in construction project management and design for the past couple of years. In his work, he has contributed towards the LEED certification of several projects which contained solar panels, sustainable materials, landfill waste diversion programs, among others. He has a strong interest in sustainable energy, especially renewables, and aspires to lower carbon emissions to contribute towards the goal of a carbon neutral world in 2050. His sustainability passion and curiosity began at a young age in his home country of Colombia, where he grew up seeing one of the most biodiverse places in the world damaged by gas-powered engines. He is thrilled to continue to expand his knowledge in the MSEEM program, and looks forward to take part of the energy transition towards a greener world.
Christopher Contos
Christopher earned his B.S. in Electrical & Computer Engineering at Rowan University. Contos' work is motivated by the understanding that time is the most valuable resource in mitigating the climate crisis. With an interest in electricity power systems and markets with time as a priority, he is eager to contribute to accelerating the deployment of sustainable energy technologies via policy to alleviate environmental injustice. His prior work involves the development of emissions models for data-driven calls to action and research experience with microgrids as well as energy and resource efficiency. Contos' experiences have advanced his understanding of science communication and stakeholder engagement to achieve sustainable development. With MSEEM, Chris looks forward to working at the nexus of engineering, economics, and policy to expand equitable access to sustainable energy.
Maria Lucas
Maria received her undergraduate degree in Economics from NC State University. For the past four years she has provided educational and consultative services at IMPLAN, a provider of economic data and input-output modeling software that is used across the public, private, and academic research communities. Previously at RTI International, she developed and evaluated surveys and econometric models addressing health and wellbeing preferences. Throughout her academic and professional career, she's fulfilled a range of roles in a member-based service organization dedicated to strong families, a fair economy, and a healthy earth. During her participation in the MSEEM program, Maria looks to hone her analytical skills in the application of promoting sustainability and justice. She has a particular interest in identifying and implementing feasible means to do so in the areas of supply chain management, housing and commercial development, and policy making.
Brooke Schumacher
Brooke received her undergraduate degree in computer engineering from the United States Air Force Academy. Originally from the state of Georgia, Brooke lived in Saudi Arabia for most of her childhood, where she gained a love for the Arabic language. She was able to study Arabic in Morocco with the State Department in 2019 and is now a Critical Language Scholarship alumna. She enjoys hiking, camping, climbing, and anything outdoors. She hopes to pursue her interests in international policy through the MSEEM program to study a combination of both humanitarian aid as a national security interest, as well as international policy on technology and energy in developing nations.
James Serrano
James received his undergraduate degree in Finance with a minor in Spanish from Indiana University. He is originally from Tampa, FL and has lived in Indiana, New York, Spain, Guatemala, and California. James became passionate about environmental advocacy after traveling to Costa Rica and learning about their business practices that protect their biodiversity while supporting their economy. James was previously a Financial Consultant at Charles Schwab but left to return to school upon experiencing the complexities surrounding Socially Responsible Investing firsthand. Motivated to push our financial system to support a greener future, James aspires to combine his financial knowledge with the MSEEMs program to design public policy for sustainable economic expansion. In his free time, James enjoys playing soccer, hiking, cooking, playing board games with friends, and traveling.
2020-2021 SEEM Students
| | | | | |
| --- | --- | --- | --- | --- |
| Kelsey Alexander | Nidhi Gangavarapu | | Thomas Orzech | Madeline Shepard |
| | Christian Garcia | | | |
| | Miguel Granier | | | Jennifer Wilson |
| Samuel Costa | | Billy Mauldin | | |
| | Garry Harris | Brooklyn Mooney | Hadassah Robbins |   |
Meet the Inaugural Class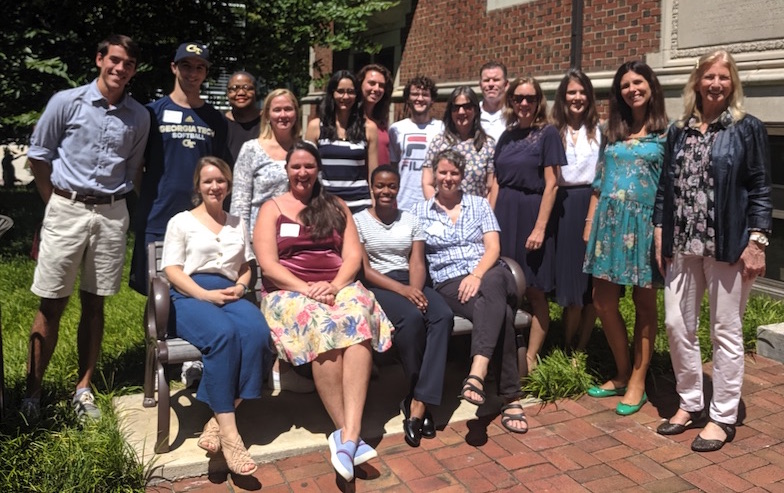 The inaugural class of MSEEM program consisted of 11 full-time students, 5 of which were also MSEEM Fellows. These students entered the program in Fall 2019 and finished all of the requirements for their degree in Summer 2020.
Students come to the MSEEM program from a wide range of backgrounds. Some come straight from their undergraduate education, and some bring with them years of professional experience. Their undergraduate degrees are just as diverse, ranging from international affairs to environmental science to architecture. Hear some of their stories below, as well as written testimonials from some of the first-ever MSEEM Fellows and information about the Fellows for the 2020-2021 academic year.
Testimonials from Former Fellows
Alumni