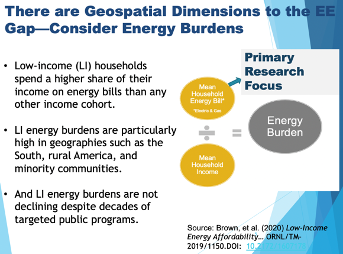 Dr. Marilyn Brown recently spoke on the need for "justice-aware" energy planning and policymaking during a National Academies of Sciences, Engineering, and Medicine webinar on ethics and biases in the geographical sciences.
Brown is a Regents and Brook Byers Professor of Sustainable Systems and interim chair in the School of Public Policy; she also teaches courses for the Master of Sustainable Energy and Environmental Management (MSEEM) program. Her June 11 presentation discussed the high energy burden experienced by low-income customers, the impact of the coming transition to renewable energy on lower-income people, and the need to include distributional and procedural equity in all steps of the process.
"Now is the time to ensure that our future is powered by clean energy that benefits all," she said.
Learn more about the event and view Brown's presentation, entitled Geospatial Dimensions of Energy Inefficiency and Equity.