In Michigan this week, President Trump called for a re-evaluation of the fuel economy regulations set by the Obama administration. These standards require automakers to increase the average fuel economy of new cars and trucks to 54.5 miles per gallon by 2025.
http://www.npr.org/sections/thetwo-way/2017/03/15/519037545/epa-reopens-u-s-rules-setting-vehicle-efficiency-standards-for-2025
---
EPA Reopens U.S. Rules Setting Vehicle Efficiency Standards For 2025
www.npr.org
U.S. automakers may not have to reach fuel efficiency standards that were set during the Obama administration, which had set a target of 54.5 miles per gallon for the 2025 model year.
---
The above NPR article provides a balanced and detailed description of the range of possibilities. As the NPR reporter says, "Changing the standards isn't expected to be a simple process...an agreement usually includes the EPA, the Department of Transportation and the state of California."
---
Trump's new plan to roll back Obama's fuel economy rules for cars, explained
www.vox.com
Depending on what Trump does, this move could be a serious blow to the electric car market.
---
The Department of Transportation is required to set Corporate Average Fuel Economy (CAFE) standards for new cars and trucks under a 2007 energy bill signed by George W. Bush. That bill directs CAFE levels to rise on a fixed schedule, based on what's technologically and economically practical.

The Environmental Protection Agency is required to regulate greenhouse gas emissions from new vehicles under the Clean Air Act, thanks to a 2007 Supreme Court decision and a follow-up 2009 EPA finding that greenhouse gases endanger public health and welfare.

California has a waver from the EPA that allows the state to develop its own vehicle emissions rules that are stricter than the federal government's. (This waiver program exists because when the Clean Air Act was written in the 1970s, California's smog problem was especially bad.)
Ford CEO Mark Fields told President Trump that around 1 million jobs could be at risk if newly implemented fuel economy standards aren't adjusted. (https://www.bloomberg.com/news/articles/2017-01-27/ford-ceo-told-trump-u-s-fuel-economy-rules-risk-1-million-jobs-iygg9wja).
---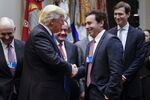 Ford CEO Told Trump U.S. Fuel-Economy Rules Risk 1 Million ...
www.bloomberg.com
About 1 million U.S. jobs are at risk if fuel-economy rules don't align with market reality, according to Ford Motor Co. Chief Executive Officer Mark ...
---
Sergio Marchionne, CEO of Fiat Chrysler, told reporters at the Geneva Motor Show: "I think every [automaker] that produces SUVs and pickups will benefit from a rollback."
So we have a classic tradeoff being debated: the economy vs the environment. Ironically, history suggests that the two goals are not mutually exclusive. It's not a zero sum game. Homes are more energy efficient today than ever before, they are also more affordable, and the U.S. continues to build them. But nobody's acknowledging this possibility for cars and SUVs.